"El programa de becas Leaders and Achievers® reconoce a los
estudiantes que sobresalen dentro y fuera del salón
de clases"
Comcast hizo entrega de $78.000 dólares en becas a 60 estudiantes de preparatoria en Colorado como parte de su programa Leaders and Achievers®. Cada uno de los estudiantes galardonados recibieron un premio de $1.000, honorando sus logros dentro y fuera del salón de clases.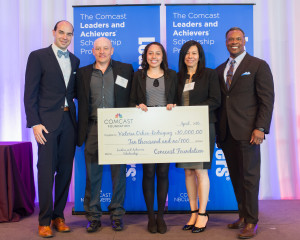 Cabe resaltar que dos de los estudiantes sobresalientes, Victoria Ochoa-Rodriguez de Greeley West High School en la ciudad de Greeley y Suyog Soti de Fairview High School en Boulder, fueron escogidas para recibir la beca Comcast Founders proveyéndoles $9.000 dólares adicionales.
"Los ganadores de la beca Leaders and Achievers son un ejemplo de liderazgo y están comprometidos a la excelencia académica y al servicio comunitario", dijo Rich Jennings, Vicepresidente Senior de Comcast, región Mountain West. "Nos enorgullece poder reconocer sus logros y apoyarlos en sus emprendimientos educativos".
El programa Leaders and Achievers de Comcast provee becas a estudiantes que busquen alcanzar su máximo potencial, que sean un impulso para un cambio positivo dentro de sus comunidades, que estén involucrados en sus escuelas y que sean un modelo a seguir para sus compañeros.
La filosofía del programa es dar a los jóvenes las oportunidades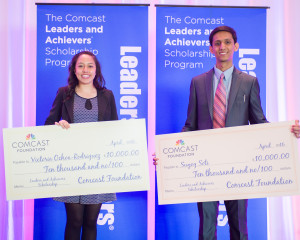 necesarias para la preparación de su futuro y a la vez hacer que se involucren en sus propias comunidades.
Hasta la fecha, Leaders and Achievers de Comcast ha entregado $893.000 dólares en becas a los más de 700 estudiantes de Colorado beneficiados por el programa.
Cabe destacar que este año 35% de los estudiantes premiados en este mismo estado son de origen hispano.
Desde su fundación en el año 2001, se han entregado mas $25 millones de dólares a casi 25.000 estudiantes de alrededor del país a través de Leaders and Achievers®.
Para más información visita la pagina en Facebook de Leaders and Achievers de Comcast.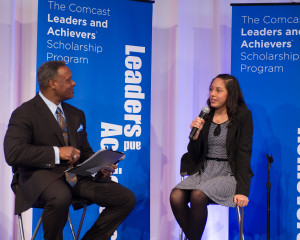 A continuación la lista de todos los estudiantes ganadores provenientes de las diferentes área de Denver-Boulder, y si usted conoce a algunos de estos estudiantes galardonados no dude en felicitarlos, se lo merecen por su arduo esfuerzo.
Benjamin Pemble of Arvada, Ralston Valley Senior High School
· Christopher Cordova of Arvada, Arvada West High School
· Lucy Lee of Arvada, Pomona High School
· Gabriela Bell of Boulder, Boulder High School
· Bryan Tanigawa of Broomfield, Broomfield High School
· Brandon Sena of Commerce City, Horizon High School
· Angelica Rodriguez of Commerce City, Lester R. Arnold High School
· Fernando Chavez of Commerce City, Adams City High School
· Nafisa Sarowar of Denver, Lotus School for Excellence
· Jorge Ramos-Rodriguez of Denver, Bruce Randolph High School
· Manuel Rodriguez Vega of Denver, Global Leadership Academy
· Amanda Nguyen of Denver, Career Education Center Middle College of Denver
· Donna Marquez-Meraz of Denver, Mapleton Early College
· Abel Ramirez of Denver, Colorado Academy
· Karen Vasquez-Romero of Denver, Green Valley Ranch High School
· Iesha Said of Denver, East High School
· Melissa Dominguez of Denver, Abraham Lincoln High School
· Adira Brown of Denver, Denver Jewish Day School
· Alesha Rodriguez of Denver, Florence Crittenton Services of Colorado
· Lirio Palmer of Denver, Manual High School
· Leslie Valdez of Denver, Martin Luther King Jr. Early College
· Alewia Roba of Denver, Overland High School
· Orlando Halpern of Denver, Options School
· Maria Nieto Salazar of Federal heights, North High School
· Sonia Abraham of Lakewood, Bear Creek High School
· Majarlika Diane Villaruel-Mariano of Lakewood, Alameda High School
· Ashley Salazar of Littleton, Sheridan High School
· Haley Jacobs of Littleton, Thunder Ridge High School
· Tyler Fuller of Littleton, Littleton High School
· Suyog Soti of Superior, Fairview High School
· Adeola Awolaja of Thornton, York International School
· Kayla Schacher of Westminster, de Jefferson Academy High School.