Redacción/La Prensa de Colorado
Telemundo Denver fue galardonado con un total de 16 premios de excelencia, uno de los cuales incluye el de "2014 Mejor Estación del Año" entre las emisoras de el área metropolitana de Denver que transmiten en Español.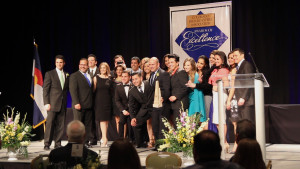 Los premios fueron anunciados en la gala anual del CBA, que tuvo lugar el sábado, 7 de marzo, en el hotel Denver Marriot Tech Center. Además fueron reconocidos con el 2014 Premio de Excelencia tres presentadores de noticias: Guillermo Martínez presentados de las noticias principales, Carlos Rausseo presentador de los deportes, y Javier Castro como presentador del tiempo.
"Nosotros nos sentimos honrados y humildes por ser reconocidos por el Colorado Broadcasters Association con este reconocimiento tan prestigioso del periodismo," dijó Andrés Chaparro, Gerente General de Telemundo Denver. "Estos premios representan el compromiso de nuestra estación a entregar noticias de calidad superior y en la manera en que nuestros clientes lo esperan y merecen, y seguiremos sirviendo a nuestras comunidades con la información que necesitan para florecer en sus vidas diarias."
A continuación la lista completa de los reconocimientos que obtuvo Telemundo Denver:
1. Best Television Station of the Year, Telemundo Denver
2. Best Regularly Scheduled Newscast (Spanish), Noticiero Telemundo Denver
3. Best Station Website (Spanish), www.TelemundoDenver.com, Laressa Watlington
4. Best News Anchor or Team (Spanish), Guillermo Martinez
5. Best Weathercaster (Spanish), Javier Castro
6. Best Investigative Reporting (Spanish), Problemas con Licencias de Conducir
7. Best Hard News, Spot News Report, within 24 hours (Spanish): Venezuela en Crisis, Victor Rodríguez, Milter Herrera, Carlos Rausseo
8. Best Specialty Reporter (Spanish), Immigration Coverage, Carlos Rausseo
9. Best General Assignment Report, within 24 hours (Spanish): Trabajadores Bajo la Sombra, Carlos Rausseo
10. Best Single or Series Program or News Magazine (Spanish): Executive Action Announcement, Pedro Calderón, Victor Rodríguez, Milter Herrera
11. Best Video Essay with No Narrative (Spanish), Don Guille, José Guzmán, Victor Rodríguez
12. Best Station Promotion/Marketing Campaign (Spanish): Más Noticias Campaign, Donny Tran
13. Best Station Promo (Spanish): Driver's License for Undocumented Immigrants, Pedro Calderón, José Guzmán
14. Best Community Service Campaign (Spanish): Cuide su salud: ¡No hay de otra!, Donny Tran
15. Best Television Commercial for an Advertiser (Spanish): The Moment, Donny Tran
16. Best Sales Campaign for an Advertiser (Spanish), History Colorado Center Campaign, Donny Tran, Viviana Granillo, Belen Alcaraz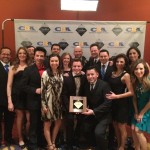 La Prensa de Colorado Felicita a todo el equipo de Telemundo Denver y a su Gerente General por todo el esfuerzo y éxitos, asi como por todo el arduo trabajo con la comunidad hispana. Felicidades!!!!
Los anuales CBA's Premios de Excelencia reconoce la creatividad y originalidad en las industrias audiovisuales de la radio y de la televisión en Denver. Para una lista completa y detallada de todos los ganadores, visita el sitio web del Colorado Broadcasters Association.